01. Global Logistics Solutions
02. Delivering Excellence
03. Connecting Economies
04. Sharing Prosperity
Bahri Business Units
Bahri is an award-winning company with a world-class fleet committed to delivering outstanding results for all our stakeholders. We champion the Saudi Vision 2030 to transform the Kingdom into a key strategic regional hub and logistics gateway across three continents.
Bahri Oil
Bahri Logistics
Bahri Chemicals
Bahri Oil
One of the largest owner and operator of Very Large Crude-oil Carriers (VLCCs) providing crude oil transportation services.
MORE ABOUT BAHRI OIL
Bahri Logistics
Our most established global service offers over 40 years' maritime experience on all our routes.
We are passionate supporters of the Saudi Vision 2030.
MORE ABOUT BAHRI LOGISTICS
Top 10
global breakbulk carrier
Bahri Chemicals
An 80/20 joint venture between Bahri and SABIC.
We are the largest owner and operator of chemical carriers in the Middle East.
MORE ABOUT BAHRI CHEMICAL
Bahri Dry Bulk
Bahri Ship Mgmt.
Bahri Desalination
Bahri Dry Bulk
We are the Kingdom's premier dry bulk carrier sailing under the Saudi Arabian flag in a joint venture with ARASCO.
MORE ABOUT BAHRI DRY BULK
Bahri Ship Mgmt.
We are a highly regarded service pioneering integrated maritime solutions.
We aim to maximise ship reliability, safety and effectiveness at the most feasible operating costs.
MORE ABOUT BAHRI SHIP MANAGEMENT
Bahri Desalination
A proud strategic partner of Saudi Arabia's Saline Water Conversion Corporation (SWCC).
Bahri is designing, building and operating Saudi Arabia's critical desalination infrastructure, applying industry-leading innovation and state-of-the-art technologies to create a better tomorrow for the Kingdom's businesses and communities.
More about Bahri Desalination
50,000 m³
per day Desalinated drinking water capacity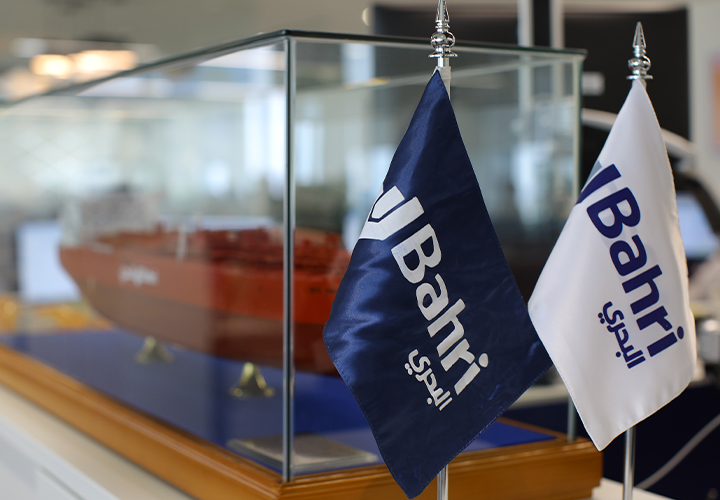 Investors
Visit the Bahri hub for investors. You can download our investor app, sign up for the latest results and reports, or browse the resources available online.
Learn more
Careers
Join our pioneering team for onshore and offshore opportunities. Sign up for job alerts, watch our latest videos and learn about Bahri values.
Ready to come ABOARD?
37
Chemical & Product Tankers